This week's Top Ten Tuesday is a freebie, and as I love all things female in all things fiction, I thought I'd pick my ten favourite female characters from literature. So, in no particular order:
Eowyn, Shield-Maiden of Rohan – The Lord of the Rings, J.R.R. Tolkien
What's there not to love about Eowyn? She loves her family more than life itself, she's passionate and strong, both physically and emotionally, but I believe Gandalf put it best:
"[To Eomer] My friend, you had horses, and deed of arms, and the free fields; but she, being born in the body of a maid, had a spirit and courage at least the match of yours. Yet she was doomed to wait upon an old man, whom she loved as a father, and watch him falling into a mean dishonoured dotage." – The Return of the King, Ch. 8, The Houses of Healing.
Elizabeth Bennet – Pride and Prejudice, Jane Austen
Like Eowyn, Lizzie is a strong-minded woman in a world ruled by men, but I love her mostly because she is not flawless. She holds Darcy to account for his prejudices against her family and her standing in society, but she herself repeatedly shows conceit, by letting herself be ashamed of those very things herself. Like all of Austen's heroines she is believable and realistic, because she is not infallible, but it is this mixed with her strong morals and tongue-in-cheek wit that sets her apart from the rest.
Paige Mahoney, The Pale Dreamer – The Bone Season, Samantha Shannon

Paige is the YA heroine that I want to see in all of YA. She is opinionated and passionate, not letting her morals be swayed by anything less than cold, hard facts. She has a determination and drive that captivates all of those around her and inspires them to be strong too. She is conflicted by her relationship with Warden, but doesn't let that take over her every waking thought, as so often seems to be the case with YA heroines. I kind of love her.
Lila Bard – A Darker Shade of Magic, V.E. Schwab

"Lila Bard knew in her bones that she was meant to be a pirate."
I was rather underwhelmed by A Darker Shade of Magic, but I will most definitely be reading A Gathering of Shadows, because of one reason: Lila Bard. Lila is hilarious, curious, independent and unpredictable, and that's why I love her. You really don't know what she's going to do next, but whatever she does, you know it's going to be awesome.
Luna Lovegood – Harry Potter, J.K. Rowling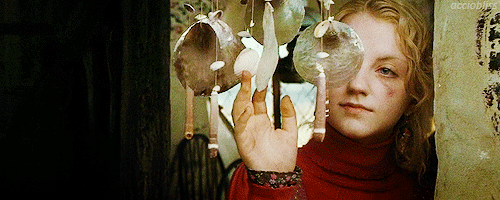 "The key to Luna is that she has that unbelievably rare quality of actually not giving a damn what anyone else thinks of her." – JK Rowling
I didn't really appreciate this brilliant character until I went to LeakyCon London a few years ago, met Evy, and listened to her talk about Luna. I love her curiosity and how open-minded she is. She just does things that make her happy, and if that means doing things others laugh at, she really doesn't care. We could all learn a little something from Luna.
Violet Baudelaire – A Series of Unfortunate Events, Lemony Snicket (Daniel Handler)

"In a world of abandoned items and discarded materials, Violet knew there was always something."
I'm going to admit something here. I never finished reading A Series of Unfortunate Events; the final book didn't come out until after I'd turned 17, by which point I'd grown out of them, but despite this, Violet Baudelaire is a character who will always have a special place in my heart. To this day, I've never read a female character quite like her; she was a girl, but she was also clever, and intelligent, and an inventor. I'd grown up with books and movies where every inventor, every scientist, anyone who showed any sign of creating things with their hands, was male. Violet was a breath of fresh air in a musty room full of men.
Margo Roth Spiegelman – Paper Towns, John Green

It took me two goes to get through Paper Towns. It's my least favourite John Green book, but, on the upside, it does include Margo Roth Spiegelman. A lot of people seem to be torn over this character, largely because she is a character that suffers from Manic Pixie Dream Girl syndrome. What people seem to forget that this book is told through the eyes of Quentin; he is the one who sees her as the Manic Pixie Dream Girl. If you persevere to the end you get to see the real Margo, and that is the Margo I love. She's messed up, that's fair to say, but so much of what she says at the end resonated with me in ways that few other characters ever have.
Serafina Pekkala – His Dark Materials, Philip Pullman

I know Lyra is the obvious choice for great female characters in this series, but I always much preferred Serafina. There was just something about her that was so fascinating, and, I mean, what's there not to love? She's a badass, warrior, all-powerful, witch queen!
Minerva McGonagall – Harry Potter, JK Rowling

I know I've already featured a character from Harry Potter, but really, how can one create a list of amazing female characters without including Queen of All Things, Professor Minerva McGonagall? I could go on all day about how great she is, but above all else, I adore her for how much she truly cares for her students. She always puts them first without even a second thought, even when it means putting her life in danger. All teachers should strive to be like Professor McGonagall.
Celia Bowen – The Night Circus, Erin Morgenstern

The Night Circus is one of those books I desperately want them to make into a movie, just so that I can miraculously get cast as Celia, because, oh! How I love Celia Bowen! On the surface she appears to be this perfectly normal young woman, but, underneath it all she is extraordinary, and not just because she can do magic. She's just so intriguing and clever and intuitive. I love her!